0
produse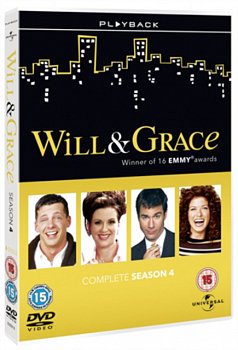 Will and Grace: The Complete Series 4 2003 DVD / Box Set
Audienta:
N-15 (Nerecomandat sub 15 ani)
Subtitrare:
Fara subtitrare in limba romana
Cod produs:
5050582829105
Acest film nu are subtitrare in limba romana.
All 27 episodes from Season 4 of the popular US sitcom. In 'The Third Wheel Gets the Grace', Grace's boyfriend Nathan feels left out when Will gets back from holiday and resumes his close friendship with Grace. 'Past and Presents' sees Will turning to Nathan for advice after a former bullying classmate joins his law firm as a fellow attorney. Meanwhile, Grace is mortified when her gift for Nathan is overshadowed by Karen's incredible generosity. In 'Crouching Father, Hidden Husband', Jack coerces Grace into posing as a high school date for his son Elliot, bringing back bad memories for Grace of her own troubled high school experiences. In 'Prison Blues', Grace accompanies Karen to visit Stan in prison after he is arrested for tax evasion, and, deciding Karen had better not be left alone in her anxious state, offers to move into her penthouse apartment to keep her company. But it isn't long before Grace is getting very used to Karen's luxurious lifestyle. In 'Loose Lips Sink Relationships', Grace oversteps the boundaries of relationship etiquette when she compares her previous sexual experiences with her boyfriend Nathan's. Meanwhile, Will's fantasy of modelling in the Barney's catalogue prompts Jack to set up a 'date' between Will and Jack's dorky female boss. 'Rules of Engagement' sees Nathan and Grace attempting to propose to each other but getting it all horribly wrong. In 'Bed, Bath and Beyond', Will does his best to cheer Grace up after her disastrous split from Nathan, only to have his efforts set back by Jack and Karen's misguided and quite bizzare attempts to raise Grace's spirits. Will and Grace agree to disagree in 'Star-Spangled Banter', when Grace's first choice for mayor is the female Jewish candidate, while Will wants the gay candidate to win. In 'Moveable Feast (1)' and 'Moveable Feast (2)', Jack and Karen join Will and Grace for a holiday motor tour of all their families, each one more dysfunctional than the last. 'Stakin' Care of Business' sees old and new boyfriends giving Will a hard time at the gym. Meanwhile, a proposed business deal unsettles Karen and Grace's friendship. In 'Jingle Balls', Will meets a ballet dancer but is too embarrassed to introduce him to his friends, while Grace gets a seasonal job doing the Christmas display for the windows of Barneys. In 'Whoa, Nelly', Will and Grace hatch a scheme to fix Will's father's mistress up with another man - but the only man they can think of if Will's gay friend Larry. Meanwhile, Jack and Karen buy a horse for breeding, but find the stud is only interested in stallions. 'Grace in the Hole' sees Grace running into a handsome high school friend while visiting Stan in prison. The only thing standing in her way is the fact that he's an inmate. In 'Dyeing is Easy, Comedy is Hard', Jack gets his 12-year-old son Elliot's hair bleached without consulting Bonnie, Elliot's feisty single mother. Jack, who is only Elliot's father through sperm donation, is distraught when Bonnie tells him she wants him out of Elliot's life for good. Matt Damon makes a guest appearance in 'A Chorus Lie' as Owen, a straight man posing as gay in order to enter the New York Gay Men's Chorus competition. Jack, who is also competing, turns to Grace in desperation: can she 'in' Owen in time? 'Someone Old, Someplace New' sees the roommates looking for - and finding - a more spacious apartment, but they have to fight off Sandra Bernhard to get it... not to mention illegally sub-letting their old place. 'Something Borrowed, Someone's Due' sees Will and Grace installed in their dream apartment... but finding that they miss their old one. Meanwhile, Jack steps in when Karen's mother tries to involve her in one last scam., 'Cheatin' Trouble Blues' sees Will giving his newly reunited parents a gift of a romantic cruise together, but things don't go according to plan when it emerges that each of them has been hiding a secret. Will's childhood mascot, a garden gnome called Sqatsie, gets decapitated in 'Went to a Garden Potty' when Will decides to donate it to their apartment's communal garden. In 'He Shoots, They Snore', Jack asks Will to take his son Elliot to a baseball tournament, but is later furious when he learns that he has missed his son's first kiss with a girl. Grace is dreaming of marriage in 'Wedding Balls' after a two friends of Will's were due to come to New York to plan their wedding, but the bride-to-be fell ill at the last moment. Grace is drafted in to represent her, and gets a little carried away. Michael Douglas guest stars in 'Fagel Attraction' as Detective Gavin Hatch, the sociable police detective Will meets after his laptop is stolen. What Will doesn't know is that he also attends Jack's therapy group for gay men. 'Hocus Focus' sees Grace posing for an avant garde phtographer after Will wins a portrait session at a charity auction. The result is a sexy image that Grace loves - but Will isn't quite so sure. 'A Buncha White Chicks Sittin' Around Talkin' sees Will asking Grace to be the biological mother of his baby - but a therapy session reveals Grace's uncertainty - and brings a startling secret to light. In 'Artificial Insemination (1)' and 'Artificial Insemination (2)', everything that could go wrong does go wrong following Will and Grace's decision to have a baby together: bungled insemination attempts, missing specimens and misunderstandings. Meanwhile, Jack's showbiz career gets a boost when he gets some advice from his idol, Cher.