0
produse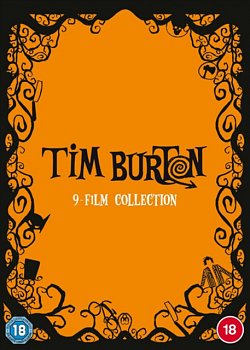 Tim Burton 9-film Collection 2012 DVD / Box Set
Subtitrare:
Fara subtitrare in limba romana
Cod produs:
5051892237710
Disponibil cu livrare intre 20 Dec - 01 Jan
Adaugat in wishlist
Acest film nu are subtitrare in limba romana.
Collection of nine films directed by Tim Burton. In 'Pee-Wee's Big Adventure' (1985) man-child Pee Wee Herman (Paul Reubens) loses his bike and sets off on a cross-country adventure to locate it. Along the way he encounters bikers, bums, convicts and a phantom trucker. In 'Beetlejuice' (1988) Barbara and Adam Maitland (Geena Davis and Alec Baldwin) are a happy couple who, when killed in a car crash, return as ghosts to their beloved Connecticut home to wreak havoc on the ghastly Deetz family who have moved in. Being novices at haunting, their efforts go unnoticed by the house's new inhabitants, with the exception of Goth daughter Lydia (Winona Ryder), who doesn't mind one bit. At their wit's end, the ghostly couple call on a despicably disgusting demon named Betelgeuse (MIchael Keaton) for help. In 'Batman' (1989) the streets of Gotham City are no longer safe for criminals, who are being picked off by a masked vigilante dubbed Batman by the press. Reporter Alexander Knox (Robert Wuhl) teams up with photographer Vicki Vale (Kim Basinger) in an attempt to discover Batman's true identity - an investigation which leads them to the door of mysterious millionaire Bruce Wayne (Keaton). Meanwhile, crime boss Carl Grissom (Jack Palance)'s attempt to rid himself of untrustworthy henchman Jack Napier (Jack Nicholson) does not go according to plan, and after emerging physically and mentally disfigured from a vat of chemicals, Napier reinvents himself as the psychotic clown prince of crime known as The Joker and proceeds to terrorise Gotham. In 'Batman Returns' (1992) 33 years after being abandoned as a baby, Oswald Cobblepot (Danny DeVito) returns to Gotham City, bent on revenge, as the Penguin. He begins a warped campaign to become mayor of Gotham, helped by millionaire businessman Max Shreck (Christopher Walken) and undertakes a mission to murder every firstborn son in the city - a plan which will avenge his own beginnings. Meanwhile, Batman emerges to stop him, but struggles with his dual identity after becoming romantically involved with Shreck's former secretary Selina Kyle (Michelle Pfeiffer), who takes up her own secret identity as Catwoman to get revenge on Shreck. In 'Mars Attacks!' (1996), when Martians arrive on planet Earth, American President James Dale (Nicholson) is persuaded to extend the hand of friendship. One of the President's advisers, Professor Donald Kessler (Pierce Brosnan), has been studying the aliens, and is keen to make peaceful contact. However, the Martians gleefully fry their greeting party from Earth, and launch an all-out attack on the planet. 'Corpse Bride' (2005), set in a 19th century European village, follows the story of Victor (voice of Johnny Depp), a young man who is whisked away to the underworld and wed to a mysterious Corpse Bride (Helena Bonham Carter), while his real bride, Victoria (Emily Watson), waits bereft in the land of the living. Though life in the Land of the Dead proves to be a lot more colourful than his strict Victorian upbringing, Victor learns that there is nothing in this world, or the next, that can keep him away from his one true love. 'Charlie and the Chocolate Factory' (2005) centres around an eccentric chocolatier, Willy Wonka (Depp), and Charlie Bucket (Freddie Highmore), a good-hearted boy from a poor family who lives in the shadow of Wonka's extraordinary factory. One day Wonka makes a momentous announcement. He will open his famous factory and reveal 'all of its secrets and magic' to five lucky children who find golden tickets hidden inside five randomly selected Wonka chocolate bars. When Charlie finds some money on the snowy street and takes it to the nearest store for a Wonka Whipple-Scrumptious Fudgemallow Delight he finds a golden ticket. The family decides that Grandpa Joe (David Kelly) should be the one to accompany Charlie on this once-in-a-lifetime adventure. Once inside, Charlie is dazzled by one amazing sight after another. 'Sweeney Todd - The Demon Barber of Fleet Street' (2007) tells the tale of Benjamin Barker (Depp), a barber who returns to London after spending years in exile for a crime he didn't commit. He soon discovers from pie-maker Mrs Lovett (Bonham Carter) that, in his absence, his wife has taken her own life and his daughter is now in the care of the man who had him sent away - the dastardly Judge Turpin (Alan Rickman). Seeking revenge and filled with a murderous rage, Barker sets up a barber's shop above Mrs Lovett's premises. Now calling himself Sweeney Todd, Barker kills off all his customers with a razor to the throat and sends their cadavers to the shop below to be used as a tasty new filling for Mrs Lovett's meat pies. What was once the worst pie shop in London quickly becomes one of the city's most popular eateries, but Barker won't be satisfied until he can lure Judge Turpin into the barber's chair... Finally, in 'Dark Shadows' (2012), when playboy Barnabas Collins (Depp) breaks the heart of the beautiful Angelique Brouchard (Eva Green), an old family curse is released as Angelique, a witch, turns Barnabas into a vampire before burying him alive. Two centuries later, Barnabas is inadvertently freed and emerges into the very changed world of 1972. Returning to his former home at Collinwood Manor, he finds his estate in ruins and the dysfunctional dregs of his family in tatters. Matriarch Elizabeth Collins Stoddard (Pfeiffer) has enlisted the services of live-in psychiatrist Dr Julia Hoffman (Bonham Carter) to help with her numerous family problems - but between Elizabeth's loser brother, Roger Collins (Jonny Lee Miller), her rebellious teenage daughter, Carolyn Stoddard (Chloë Grace Moretz), and Roger's precocious ten-year-old son, David Collins (Gulliver McGrath), Dr Hoffman has certainly got her work cut out.