0
produse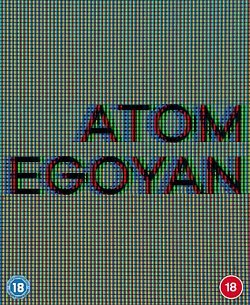 The Atom Egoyan Collection 2013 Blu-ray / Box Set
Subtitrare:
Fara subtitrare in limba romana
Cod produs:
5021866280400
Disponibil cu livrare intre 31 Jan - 09 Feb
Adaugat in wishlist
Acest film nu are subtitrare in limba romana.
Collection of seven films directed by Atom Egoyan. In 'Exotica' (1994) pet shop owner Thomas (Don McKellar) arrives in town with a secret cache of rare bird eggs. Sharing a cab from the airport he ends up in Exotica, a local strip club. Fascinated by star stripper Christina (Mia Kirshner), he becomes drawn into her sordid lifestyle, along with the club DJ (Elias Koteas) and a disturbed tax auditor (Bruce Greenwood). In 'The Adjuster' (1991) Koteas stars as Noah Render, an insurance adjuster whose attempts to help others mask a deeper malaise in his own life. His wife Hera (Arsinée Khanjian) is a disillusioned film censor who obsessively copies the most explicit scenes in the films she is supposed to review. After Noah helps a rich young woman whose house has burned down, Hera invites a young film-maker into their home to shoot a movie, and as their elaborate sexual fantasies are acted out on video, they begin to explore a world where voyeurism and exhibitionism are all-consuming. In 'Family Viewing' (1987) Van (Aidan Tierney) finds himself in a difficult situation when he realises that his father Stan (David Hemblen) is recording over the family's home movies with home-made pornography. Not only is Stan's lover Sandra (Gabrielle Rose) completely at the mercy of his dark fantasies, but she also expresses a sexual interest in Van. Dividing his time between the family home and a nearby nursing residence caring for his ageing grandmother Armen (Selma Keklikian), Van meets Aline (Khanjian), who works as a phone-sex operator, and the two concoct a plan to escape his emotionally cold father. In 'The Sweet Hereafter' (1997) powerful lawyer Mitchell Stephens (Ian Holm) arrives in a small town in British Columbia after 14 children die in a school bus crash. Announcing that he will win compensation for the townsfolk, Stephens investigates the mysterious circumstances surrounding the accident, discovering various dark secrets lurking beneath the surface. In 'Calendar' (1993) a photographer (Egoyan) and his wife (Khanjian) travel to Armenia to photograph churches for use in a calendar, employing a native speaking driver (Ashot Adamyan) to escort them around the country. On their travels a relationship develops between the photographer's wife and the Armenian guide. Looking back on this time from his apartment in Toronto, the newly separated photographer contacts women through an escort agency and invites them to dinner, all while his estranged wife tries reconcile with him. In 'Next of Kin' (1984) Peter (Patrick Tierney) is a young man from an Anglo-Saxon family who is constantly under pressure to do something meaningful with his life. The family visit a therapist in the hopes of getting to the bottom of the tension between themselves and Peter's apparent laziness. When Peter visits the clinic before the next session hoping to view the video recording of their last meeting, he is given the wrong tape and instead is shown the recording of an immigrant family who had given up their first son for adoption upon entering the country. What Peter then suggests to his family and therapist is that he take a break in order to find himself, but what he actually does is assume the identity of this other family's long-lost son. Finally, in 'Speaking Parts' (1989), struggling actor Lance (Michael McManus) works in housekeeping at a local hotel while waiting for his first speaking role. Meanwhile, his co-worker Lisa (Khanjian) is obsessed with him and seeks out all the movies he appears in as a means of satisfying her voyeuristic tendencies. When Lance learns a scriptwriter, Clara (Rose), is staying at the hotel he chooses to leave his résumé in her room in the hope that she'll give him a part in her next film about her late brother. Before long the two become romantically involved and Lance finds himself with his first lead role but Clara becomes increasingly distressed when a series of changes are made to her story by the movie's producer.