0
produse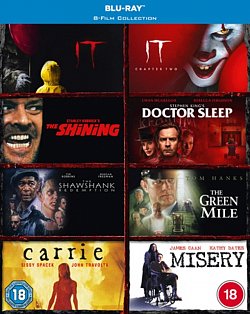 Stephen King 8-film Collection 2019 Blu-ray / Box Set
Subtitrare:
Fara subtitrare in limba romana
Cod produs:
5051892237772
Disponibil cu livrare intre 11 Oct - 23 Oct
Adaugat in wishlist
Acest film nu are subtitrare in limba romana.
Collection of eight horrors based on works by Stephen King. In 'It' (2017), set in Derry, Maine, in the late 1980s, a group of seven childhood friends, known as The Losers Club, unite to combat a mysterious threat which their cursed town had thought was long since buried. After his little brother Georgie (Jackson Robert Scott) disappears, along with several more of the town's youngsters, Bill Denbrough (Jaeden Liberher) gathers his group of outsider friends together to search for clues. Their quest eventually leads them to fight back against the shape-shifting, supernatural predator lurking in the shadows of their town and preying on children's innermost fears, manifesting itself as a killer clown called Pennywise (Bill Skarsgård). In 'It: Chapter 2' (2019), set 27 years after the events of the first film, the Losers Club return to Derry, Maine to fulfil their childhood oath when Pennywise resurfaces and continues preying on the town's children. Mike (Isaiah Mustafa), the only member of the group to remain in Derry, informs the others of the monster's return and summons them back to finish what they started. As they prepare to do battle with Pennywise once again, the friends must confront the trauma of their childhood and face their innermost fears. In 'The Shining' (1980), seeking solitude in order to write a novel, Jack Torrance (Jack Nicholson) takes a job as an off-season caretaker at the remote Overlook Hotel in Colorado. Eager to get started, Jack disregards warnings that the isolation drove a former caretaker mad, and moves into the massive resort with his wife Wendy (Shelley Duvall) and son Danny (Danny Lloyd). But Danny has a supernatural gift which makes him aware of an evil lurking in the hotel, and sure enough, as winter storms cut the hotel off from civilisation, Jack gradually becomes murderously insane. In 'Misery' (1990), sick of his 19th-century romantic heroine, Misery Chastain, novelist Paul Sheldon (James Caan) kills her off and writes a more personal, modern novel. When his car crashes in remote mountains he is saved by an avid fan and former nurse Annie Wilkes (Kathy Bates), who adores Misery and has even named her pig after her. As she nurses him back to health at her remote dwelling, he realises she is not just going to let him go. In 'Doctor Sleep' (2019), still haunted by his childhood at the Overlook Hotel, another traumatic incident forces Danny (Ewan McGregor) to seek help for his demons in a small New Hampshire town. He secures work at a hospice, where he uses his shining abilities to aid the passing of his patients, and crosses paths with a young girl, Abra (Kyliegh Curran), who possesses a similar gift. She enlists Danny's help in stopping a murderous group known as the True Knot, led by Rose the Hat (Rebecca Ferguson), which hunts down children who possess the shining and feed off of their powers, using them to fuel their own immortality. In 'The Green Mile' (1999), set in 1930s Louisiana, prison guard Paul Edgecomb (Tom Hanks) meets convict John Coffey (Michael Clarke Duncan), an experience which will change his life forever. Coffey is on death row convicted of the murder of two children - and he is afraid to sleep in his cell without a night light. Coffey also has a special gift, one which he uses to prove to the guards that he has been wrongfully convicted. In 'Carrie' (1976) Carrie (Sissy Spacek) is a gawky, unloved teenager whose awakening sexuality is at odds with her puritanical mother's fanatical teachings. Physically abused at home and shunned at school, an unexpected prom invitation seems to be Carrie's first chance at happiness. But when the prom night ends in a vicious practical joke, Carrie's despair manifests itself in a fiery telekinetic revenge. Finally, in 'The Shawshank Redemption' (1994) accountant Andy Dufresne (Tim Robbins) is sent to prison in the 1940s for the murder of his unfaithful wife and her lover despite maintaining his innocence. As he slowly comes to terms with the injustices of the corrupt prison system, he quietly inspires some of his fellow prison inmates to have a more positive outlook on life. Meanwhile, the governor of the prison discovers Dufresne's book-keeping talents and recruits him to do a spot of creative accountancy. Fellow inmate, ageing gangster 'Red' (Morgan Freeman), uses his connections to take care of Dufresne's material needs, and narrates the story of his friend's term in jail through to the late 1960s.