0
produse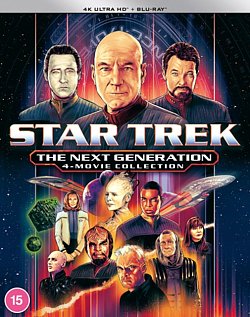 Star Trek the Next Generation: Movie Collection 2002 Blu-ray / 4K Ultra HD + Blu-ray (Boxset)
Subtitrare:
Fara subtitrare in limba romana
Cod produs:
5056453204866
Disponibil cu livrare intre 13 Jun - 25 Jun
Adaugat in wishlist
Acest film nu are subtitrare in limba romana.
Four sci-fi action adventures featuring the crew of 'Star Trek: The Next Generation'. In 'Star Trek: Generations' (1994) Captain James T. Kirk (William Shatner) reluctantly comes out of retirement to attend the launch of the USS Enterprise-B. When the ship attempts to rescue two cargo ships trapped in a strange electrical field, part of its structure is shorn away, taking Kirk with it. 78 years later, USS Enterprise-D captain Jean-Luc Picard (Patrick Stewart) is mourning the deaths of his brother and nephew when he is called to investigate an attack on the Amagosa Observatory. The culprits are revealed to be the Klingons, allied with sinister El-Aurian scientist Dr Soran (Malcolm McDowell). Soran was amongst those rescued by the Enterprise-B, and is now desperate to return to the energy field known as the Nexus. When Picard himself enters the Nexus, a historic encounter takes place. In 'Star Trek: First Contact' (1996) Captain Jean-Luc Picard, once assimilated by the alien Borg, now senses that they are about to return. He is proved correct when the Collective engage the USS Enterprise-E in battle, only to escape through a temporal vortex into the Earth's past. Picard and his crew glimpse an alternative Earth which is dominated by the Borg and, in an attempt to find out how the Borg have altered the timeline, follow them back to the year 2063, one day before Zefram Cochrane (James Cromwell) made the first warp drive journey. It was this event that attracted the attention of some passing Vulcans and established Earth's first contact with alien life. While Riker (Jonathan Frakes) leads an away team to prevent the Borg from tampering with the Earth's history, Picard must repel a Borg invasion of the Enterprise. In 'Star Trek: Insurrection' (1998) a Federation team are unobtrusively observing life on the remarkable world of Ba'ku, where 600 peaceful inhabitants enjoy the planet's youth-preserving qualities. However, forces within the alliance want to repatriate the population so that the planet's resources can be intensively exploited. Captain Jean-Luc Picard (Patrick Stewart) leads his crew in an effort to protect Ba'ku's residents and thereby honour the Federation's Prime Directive: non-intervention in the development of other civilizations. Finally, in 'Star Trek: Nemesis' (2002), when Picard and the crew of the USS Enterprise discover a disassembled prototype of their android colleague Data (Brent Spiner) on a distant planet, they take the parts back to the Enterprise and attempt to put them back together. Meanwhile, news arrives that the new Romulan leader Shinzon (Tom Hardy) wants to restore relations with the Federation and Picard is sent to negotiate. When Picard arrives, he uncovers a shocking truth about Shinzon's past, and unearths a sinister plot to destroy the Earth.