0
produse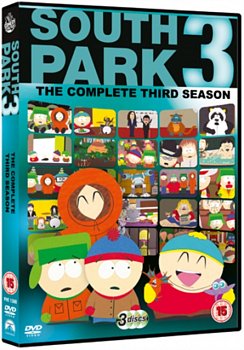 South Park: Series 3 1999 DVD
Subtitrare:
Fara subtitrare in limba romana
Cod produs:
5014437138835
Acest film nu are subtitrare in limba romana.
Entire third season of the popular animated comedy. In 'Rainforest Schmainforest', Cartman, Stan, Kyle and Kenny visit the rainforests of Costa Rica on the 'Getting Gay with Kids' choir tour (listen out for a guest appearance by 'Friends' star Jennifer Aniston). 'Spontaneous Combustion' sees Stan's dad struggling to find a solution to the spontaneous combustion being experienced by people who hold their farts in out of politeness. In 'Succubus', the boys attempt to save Chef from a life of bliss with a life-draining succubus in female form. 'Tweek vs Craig' sees the boys splitting into rival camps in a playground debate over who is the hardest - Tweek or Craig? In 'Jakovasaurs', the town becomes over-run by incredibly stupid and annoying prehistoric creatures who breed at an exponential rate. A plan is hatched to get rid of the visitors, with Cartman's voice the only one raised in protest (he likes them, you see). In 'Sexual Harassment Panda', an encounter with an educational panda results in a spate of sexual harrasment lawsuits being filed in the town of South Park. 'Cat Orgy' sees Cartman left to the mercy of Stan's older sister Shelly when she babysits for him... and just what is wrong with Cartman's cat? In 'Two Guys Naked in a Hot Tub', Mr Mackey's 'Meteor Shower Party' sees Stan and Kyle's fathers indulging their homo-erotic fantasies in the hot tub. 'Jewbilee' shows how Kyle and Kenny help thwart a plan to destroy the mighty prophet Moses at the Jewish scout camp. In 'Chinpoko Mon', Cartman, Stan, Kyle and Kenny fall prey to the latest Japanese craze. 'Starvin' Marvin in Space' sees the boys reunited with their Ethiopian friend Marvin, who is looking for a new home. In 'Korn's Groovy Pirate Ghost Mystery', South Park receives a Halloween visit from rock band Korn in an episode strangely reminiscent of 'Scooby-Doo!'. 'Hooked on Monkey-Fonics' sees the boys' attempts to win the Spelling Bee put in the shade when the contest is won by a pair of home-schoolers. All of which gives Cartman a really cool idea; 'Screw you guys - I'm going home-school.' In 'The Red Badge of Gayness', Cartman takes over a Civil War reconstruction in order to ensure that this time round the South wins. 'Mr Hankey's Christmas Classics' sees everyone's favourite piece of excrement hosting a festive musical special. In 'Are You There God? It's Jesus', Christ decides to put on a special Millennium show for his straying flock. But will anyone really be impressed by wheelchair-bound rocker Rod Stewart repeatedly poohing his pants live on stage? 'The Brown Noise' sees Cartman, Stan, Kyle and Kenny hatching a plot to gain revenge on some cool New York rivals at the world's biggest ever recorder concert, while Mr Garrison visits his estranged to father to discover why he was never sexually abused as a child.