0
produse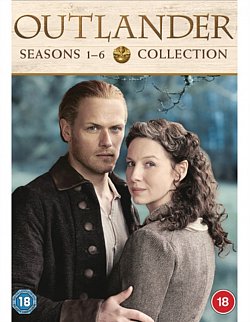 Outlander: Seasons 1-6 2022 DVD / Box Set
Subtitrare:
Fara subtitrare in limba romana
Cod produs:
5035822291539
Acest film nu are subtitrare in limba romana.
All the episodes from the first six seasons of the British-American television drama based on the novels by Diana Gabaldon. English nurse Claire Randall (Caitriona Balfe) goes on a second honeymoon with her devoted husband Frank (Tobias Menzies) after both performing their duties during the Second World War. On a visit to a stone circle at Craigh Na Dun near Inverness, Claire touches one of the stones and is transported back in time to 1743 where she encounters Frank's ancestor Black Jack Randall (Menzies) who, apart from appearance, has no likeness to her loving husband. When she is rescued from the evil clutches of Black Jack by a gang of Scottish rebels, she finds herself under suspicion of being an English spy. Season 1 episodes are: 'Sassenach', 'Castle Leoch', 'The Way Out', 'The Gathering', 'Rent', 'The Garrison Commander', 'The Wedding', 'Both Sides Now', 'The Reckoning', 'By the Pricking of My Thumbs', 'The Devil's Mark', 'Lallybroch', 'The Watch', 'The Search', 'Wentworth Prison' and 'To Ransom a Man's Soul'. Season 2 episodes are: 'Through a Glass, Darkly', 'Not in Scotland Anymore', 'Useful Occupations and Deceptions', 'La Dame Blanche', 'Untimely Resurrection', 'Best Laid Schemes...', 'Faith', 'The Fox's Lair', 'Je Suis Prest', 'Prestonpans', 'Vengeance Is Mine', 'The Hail Mary' and 'Dragonfly in Amber'. Season 3 episodes are: 'The Battle Joined', 'Surrender', 'All Debts Paid', 'Of Lost Things', 'Freedom & Whisky', 'A. Malcolm', 'Crème de Menthe', 'First Wife', 'The Doldrums', 'Heaven & Earth', 'Uncharted', 'The Bakra' and 'Eye of the Storm'. Season 4 episodes are: 'America the Beautiful', 'Do No Harm', 'The False Bride', 'Common Ground', 'Savages', 'Blood of My Blood', 'Down the Rabbit Hole', 'Wilmington', 'The Birds and the Bees', 'The Deep Heart's Core', 'If Not for Hope', 'Providence' and 'Man of Worth'. Season 5 episodes are: 'The Fiery Cross', 'Between Two Fires', 'Free Will', 'The Company We Keep', 'Perpetual Adoration', 'Better to Marry Than Burn', 'The Ballad of Roger Mac', 'Famous Last Words', 'Monsters and Heroes', 'Mercy Shall Follow Me', 'Journeycake' and 'Never My Love'. Season 6 episodes are: 'Echoes', 'Allegiance', 'Temperance', 'Hour of the Wolf', 'Give Me Liberty', 'The World Turned Upside Down', 'Sticks and Stones' and 'I Am Not Alone'.