0
produse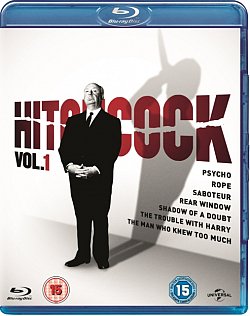 Hitchcock: Volume 1 1960 Blu-ray / Box Set
Subtitrare:
Fara subtitrare in limba romana
Cod produs:
5050582958362
Disponibil cu livrare intre 05 Oct - 15 Oct
Adaugat in wishlist
Acest film nu are subtitrare in limba romana.
A collection of Alfred Hitchcock thrillers. In 'Psycho' (1960), Marion Crane (Janet Leigh) goes on the run after stealing $40,000 from one of her employer's clients. Taking a wrong turn in a storm, she arrives at the isolated Bates Motel, run by the twitchy Norman (Anthony Perkins), who is constantly at the beck and call of his unseen mother. When Marion takes a shower in her room, a sudden knife attack brings her life to an end. Upon discovering her body Norman covers up the murder, but it is not long before Marion's sister and boyfriend are attempting to track her down. In 'Rope' (1948), believing themselves to be intellectually superior to their contemporaries, flatmates Brandon (John Dall) and Philip (Farley Granger) murder their friend David Kentley (Dick Hogan) purely to see if they can get away with it. They then throw a cocktail party, serving food from the top of the trunk where they have hidden David's body. Their guests include both David's father and fiancée, as well as college lecturer Rupert Cadell (James Stewart), who becomes increasingly suspicious as the evening wears on. In 'Sabateur' (1942), factory worker Barry Kane (Robert Cummings) finds himself branded an industrial saboteur after a fire breaks out in the workplace. The extinguisher he handed to his colleague and best friend itself burst into flame, and Kane is now on the run, determined to find the real culprit and so prove his innocence. The only person who believes his story is Patricia Martin (Priscilla Lane), who aids him in his flight from the authorities. In 'Rear Window' (1954), after breaking his leg during a shoot, photo-journalist L.B. 'Jeff' Jeffries (James Stewart) is forced to spend a humid summer recuperating in his Greenwich Village apartment. The wheelchair-bound Jeff whiles away his time observing his neighbours through a telephoto lens, bestowing them with nicknames and growing familiar with their daily routines. However, his society girlfriend Lisa (Grace Kelly) is exasperated and then alarmed when Jeff becomes obsessed with the notion that Lars Thorwald (Raymond Burr), who lives in the apartment opposite, has murdered his wife...In 'Shadow of a Doubt' (1943), young 'Charlie' Newton (Teresa Wright) longs for something exciting to happen to brighten her dull existence in Santa Rosa with parents Joseph (Henry Travers) and Emma (Patricia Collinge). The arrival of her Uncle Charlie (Joseph Cotten) seems to be just what she needs. Urbane, witty and charming, Uncle Charlie soon makes himself at home, but his suspicious behaviour begins to unsettle his niece. When police detective Macdonald Carey (Jack Graham) tells Charlie that he believes her uncle to be none other than the Merry Widow murderer, she begins to question whether she really knows Uncle Charlie at all. In 'The Trouble with Harry' (1955), when Harry Rogers' dead body is discovered one autumnal day in Vermont, several people try to keep it a secret. Among them is Captain Albert Wiles (Edmund Gwenn), who mistakenly believes himself to be responsible for Harry's death, Harry's widow, Jennifer (Shirley MacLaine), painter Sam Marlowe (John Forsythe) and local spinster Miss Graveley (Mildred Natwick). Their attempts to rid themselves of the troublesome corpse lead to further misunderstandings and several disinterments. Finally, in 'The Man Who Knew Too Much' (1956), Dr Ben McKenna (James Stewart) his wife, former singer Jo (Doris Day), and son Hank (Christopher Olsen) stumble on to an assassination plot while on holiday in Morocco. As they try to uncover the truth, the conspirators are determined to prevent them from interfering.