0
produse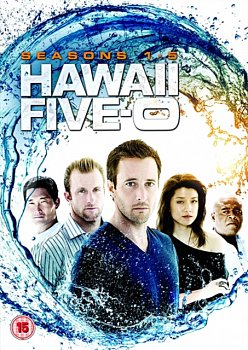 Hawaii Five-0: Seasons 1-5 2010 DVD / Box Set
Subtitrare:
Fara subtitrare in limba romana
Cod produs:
5014437603531
Disponibil cu livrare intre 11 Dec - 20 Dec
Adaugat in wishlist
Acest film nu are subtitrare in limba romana.
The complete first five seasons of the re-imagined drama following an elite task force formed to investigate serious crimes in the Hawaiian Islands. Commander Steve McGarrett (Alex O'Loughlin), an ex-Navy SEAL, heads up the 'Five-0' task force. He is joined by Detective Danny Williams (Scott Caan), Chin Ho Kelly (Daniel Dae Kim) and Chin's cousin, the rookie cop Kono Kalakaua (Grace Park). Together the four set out to maintain order in paradise and have to deal with such issues as state corruption, terrorism threats, homicide and human trafficking. Season 1 episodes are: 'Pilot', 'Ohana (Family)', 'Malama Ka 'Aina (Respect the Land)', 'Lanakila (Victory)', 'Nalowale (Forgotten/Missing)', 'Ko'olauloa (North Shore of O'ahu)', 'Ho'apono (Accept)', 'Mana'o (Belief)', 'Po'ipu (The Siege)', 'Heihei (Race)', 'Palekaiko (Paradise)', 'Hana 'a'a Makehewa (Desperate Measures)', 'Ke Kinohi (The Beginning)', 'He Kane Hewa' Ole (An Innocent Man)', 'Kai e'e (Tidal Wave)', 'E Malama (To Protect)', 'Powa Maka Moana (Pirate)', 'Loa Aloha (The Long Goodbye)', 'Ne Me'e Laua Na Paio (Heroes and Villains)', 'Ma Ke Kahakai (Shore)', 'Ho'opa'I (Revenge)', 'Ho'ohuli Na'au (Close to Heart)', 'Ua Hiki Mai Kapalena Pau (Until the End Is Near)' and 'Oia'i'o (Trust)'. Season 2 episodes are: 'Ha'i'ole (Unbreakable)', 'Ua Lawe Wale (Taken)', 'Kame'e (The Hero)', 'Mea Makamae (Treasure)', 'Ma'eme'e (Clean)', 'Ka Hakaka Maika'I (The Good Fight)', 'Ka Iwi Kapu (Sacred Bones)', 'Lapa'au (Healing)', 'Ike Maka (Identity)', 'Ki'ilua (Deceiver)', 'Pahele (Trap)', 'Alaheo Pau'ole (Gone Forever)', 'Ka Ho' Oponopono (The Fix)', 'Pu'olo (The Package)', 'Mai Ka Wa Kahiko (Out of the Past)', 'I Helu Pu (The Reckoning)', 'Kupale (Defender)', 'Lekio (Radio)', 'Kalele (Faith)', 'Ha'alele (Abandoned)', 'Pa Make Loa (Touch of Death)', 'Ua Hopu (Caught)' and 'Ua Hala (Death in the Family)'. Season 3 episodes are: 'La O Na Makuahine (Mother's Day)', 'Kanalua (Doubt)', 'Lana I Ka Moana (Adrift)', 'Popilikia (Misfortune)', 'Mohai' (Offering), 'I Ka Wa Mamua (In a Time Past)', 'Ohuna (The Secret)', 'Wahine'inoloa (Evil Woman)', 'Ha'awe Make Loa (Death Wish)', 'Huaka'i Kula (Field Trip)', 'Kahu (Guardian)', 'Kapu (Forbidden)', 'Olelo Ho'Opa'I Make (Death Sentence)', 'Hana I Wa 'Ia (Scandal)', 'Hookman', 'Kekoa (Warrior)', 'Pa'ani (The Game)', 'Na Ki'I (Dolls)', 'Hoa Pili (Close Friend)', 'Olelo Pa'a (The Promise)', 'Imi Loko Ka 'Uhane (Seek Within One's Soul)', 'Ho'opio (To Take Captive)', 'He Welo 'Oihana (Family Business)' and 'Aloha, Malama Pono (Farewell and Take Care)'. Season 4 episodes are: 'Aloha Ke Kahi I Ke Kahi (We Need Each Other)', 'A'ale Ma'a Wau (Fish Out of Water)', 'Ka'Oia i'O Ma Loko (The Truth Within)', 'A ia la Aku (From This Day Forward)', 'Kupu'Eu (Fallen Hero)', 'Kupouli 'La (Broken)', 'Ua Nalohia (In Deep)', 'Akanahe (Reluctant Partners)', 'Hau'Oli La Ho'Omaika'I (Happy Thanksgiving)', 'Ho'Onani Makuakane (Honor Thy Father)', 'Pukana (Keepsake)', 'O kela me keia Manawa (Now and Then)', 'Hana Lokomaika'I (The Favor)', 'Na hala a ka makua (Sins of the Father)', 'Pale 'la (Buried Secrets)', 'Hoku Welowelo (Fire in the Sky)', 'Ma Lalo o ka 'ili (Beneath the Surface)', 'Ho'i Hou (Reunited)', 'Ku I Ka Pili Koko (Blood Brothers)', 'Pe'epe'e Kanaka (Those Among Us)', 'Makani 'olu a holo malie (Fair Winds and Following Seas)' and 'O ka Pili'Ohana ka 'Oi (Family Comes First)'. Season 5 episodes are: 'A'ohe Kahi e Pe'e Ai (Nowhere to Hide)', 'Ka Makuakane (Family Man)', 'Kanalu Hope Loa (The Last Break)', 'Ka 'No'eau (The Painter)', 'Ho'oilina (Legacy)', 'Ho'oma'ike (Unmasked)', 'Ina Paha (If Perhaps)', 'Ka Hana Malu (Inside Job)', 'Ke Koho Mamao Aku (Longshot)', 'Wawahi moe'uhane (Broken Dreams)', 'Ua 'aihue (Stolen)', 'Poina 'ole (Not Forgotten)', 'La Po'ino (Doomsday)', 'Powehiwehi (Blackout)', 'E 'Imi Pono (Searching for the Truth)', 'Nanahu (Embers)', 'Kuka'awale (Stakeout)', 'Pono Kaulike (Justice for All)', 'Kahania (Close Shave)', 'Ike Hanau (Instinct)', 'Ua Helele'i Ka Hoku (Fallen Star)', 'Ho'amoano (Chasing Yesterday)', 'Mo'o 'olelo Pu (Sharing Traditions)', 'Luapo'I (Prey)' and 'A Make Kaua (Until We Die)'.