0
produse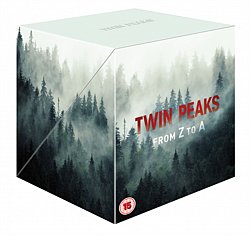 Twin Peaks: From Z to A 2017 Blu-ray / Box Set
Subtitrare:
Fara subtitrare in limba romana
Cod produs:
5053083207137
Acest film nu are subtitrare in limba romana.
Complete collection of episodes from David Lynch's original landmark murder mystery series, the prequel movie 'Fire Walk With Me' (1992) and 'A Limited Event Series'. Twin Peaks (population 51,201), a sleepy everytown USA where everyone's lives intersect with everyone else's, lies just five miles from the Canadian border. The town wakes up one morning to find one of its brightest young inhabitants, beautiful Laura Palmer (Sheryl Lee) murdered and wrapped in plastic down by the river. Local Sheriff Harry S. Truman (Michael Ontkean) and tearful Deputy Andy (Harry Goaz) are out of their depth with such a murder case and an FBI agent is assigned to investigate. Youthful, charismatic and somewhat otherworldy in his approach to policing, Agent Dale Cooper (Kyle MacLachlan) arrives to try and solve the case. Cooper's appearance causes ripples in the community and in turn he discovers that Twin Peaks is a small town full of secrets. 'Fire Walk With Me', the cinematic prequel to the 'Twin Peaks' television series, traces the events leading up to the death of troubled teen Laura Palmer. The saga begins when local police discover the corpse of a young woman named Teresa Banks. The FBI arrive to investigate and turn up a set of unusual circumstances, only to have two of their agents disappear without a trace. Yet, while the federal investigation continues under the leadership of the newly-assigned Agent Dale Cooper, Banks' friend Laura Palmer sinks deeper and deeper into a personal hell involving nightmare visions, cocaine abuse and doomed relationships. Her friends Donna (Moira Kelly) and James (James Marshall) try to help, but nothing they do seems to be able to avert Laura from the bizarre, self-destructive path she is travelling. In 'A Limited Event Series', picking up 25 years after the end of the second season, the show follows FBI Special Agent Dale Cooper's odyssey back to the town of Twin Peaks. After escaping the Black Lodge he mistakenly takes the place of his doppelgänger Dougie Jones, who lives in Las Vegas with his wife Janey-E (Naomi Watts) and son Sonny Jim (Pierce Gagnon) in a state of catatonia, while his evil doppelgänger is left to roam free on his violent crusade. Meanwhile, the Twin Peaks Sheriff Department and FBI Deputy Director Gordon Cole (Lynch) and Agent Albert Rosenfield (Miguel Ferrer) continue their search for the real Special Agent Cooper.