0
produse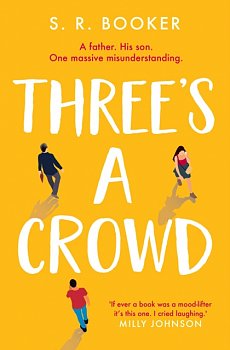 Three's A Crowd : A FATHER. HIS SON. ONE MASSIVE MISUNDERSTANDING. (Paperback)
Dimensiuni:
13 x 19,9 x 2,8 cm
Disponibil cu livrare intre 13 Apr - 25 Apr
Adaugat in wishlist
What happens when an estranged father and son unwittingly fall in love with the same woman? 'If ever a book was a mood-lifter, it's this one. Full of caustic wit, I cried laughing!' MILLY JOHNSON, Sunday Times bestselling author 'Smart, clever and engaging - the perfect 'what-if' novel' PENNY PARKES 'What a treat this novel is! Compulsively readable, and with surprising twists and turns right to the end. And who knew that such a nightmarish situation could be so funny?' DEBORAH MOGGACH 'Fun, fresh and endlessly entertaining!' HEIDI SWAIN, Sunday Times bestselling author 'A witty twisty romp that leaps from the page.

Perfect for lifting the spirits' FANNY BLAKE 'Funny, sad, uplifting and clever - pure escapism!' SUSI HOLLIDAY 'What an incredible read - tender, engrossing and extremely funny. I was laughing from the first page!' LISA CUTTS 'A beautifully executed, laugh-out-loud ride through the complex fluctuations of a father/son relationship and an unwittingly shared love interest' OLIVIA LICHTENSTEIN 'I can't begin to tell you how much I loved this funny, clever and surprisingly touching novel. Pitch perfect, it had me howling with laughter from beginning to end' HOLLY MARTIN 'Punchy and pacey, witty and engaging with entertainment by the bucketload.

I absolutely LOVED it' KIM NASH A hilariously laugh out loud, romantic comedy, perfect for fans of Something to Live For (Richard Roper), Love, Unscripted (Owen Nicholls), The Love Square (Laura Jane Williams), and Us (David Nicholls). Out-of-work actor Harriet is recuperating from a crash-and-burn affair with Damian - aka 'Cockweasel' - and making ends meet as a barista when she meets two rather lovely men. Tom is a regular at the cafe, and seems like such a nice guy.

Smooth-talking DJ Richard is older, but in great shape - a real silver fox. Deciding to take a chance on both of them, Harriet doesn't realise at first that she is actually dating father and son. Tom and Richard aren't on speaking terms, and don't share a last name - so how was she to know? By the time everyone finds out, both Tom and Richard are truly madly deeply in love with Harriet, and she's faced with an impossible choice.

But as the battle for her affections intensifies, 'Cockweasel' makes an unexpected reappearance and begs her to give him another chance...