0
produse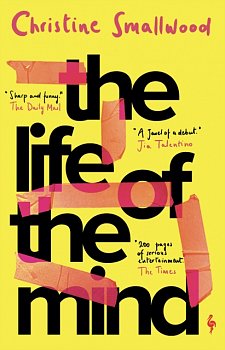 The Life of the Mind : "Sharp and funny." (Daily Mail) (Paperback)
Dimensiuni:
12,9 x 19,9 x 1,8 cm
Disponibil cu livrare intre 15 Oct - 25 Oct
Adaugat in wishlist
***A TIME MAGAZINE, LITHUB, WHITE REVIEW BEST BOOK OF 2021***"200 pages of serious entertainment." The TimesThe Life of the Mind opens with Dorothy sitting on a library toilet, checking her phone and examining the "thick, curdled knots of string" coming out of her body. No one but her boyfriend knows that she's had a miscarriage, not even her therapists-Dorothy has two of them. An adjunct professor of English in New York City with no hope of finding a permanent position, Dorothy's stuck, unable to envision the future or cut ties with the past.

"What did you call it," she asks herself, "when a life stopped developing, but it didn't end?"Christine Smallwood's debut is a campus novel like no other. Piercingly intelligent and darkly hilarious, it moves from a classroom to an underwater puppet show, from a conference in Las Vegas to a karaoke party. It is a discomforting glimpse into the head of a brilliant woman on the edge, it is a novel about endings: of youth, of professional aspiration, of possibility, of the illusion that our minds can ever free us from the tyranny of our bodies.