0
produse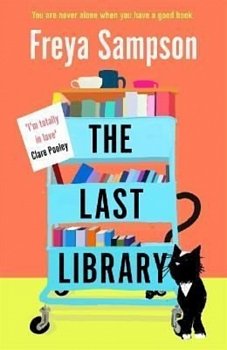 The Last Library : 'I'm totally in love' Clare Pooley (Paperback)
Dimensiuni:
12,9 x 19,8 x 3,7 cm
Disponibil cu livrare intre 14 Jun - 26 Jun
Adaugat in wishlist
'The Last Library made me laugh, cry, cheer and want to champion all of our fabulous libraries' Clare Pooley, author of The Authenticity Project'A truly lovely and endearing read' Nina Pottell'A powerful reminder about the importance of community, kindness and friendship. A truly stunning debut' Hannah Tovey, author of The Education of Ivy Edwards 'I adored every page' Jessica Ryn, author of The Extraordinary Hope of Dawn Brightside 'A sheer joy. A funny, poignant story of love, loss, self-discovery and courage.

A celebration of books and everything that makes us human' Katie Marsh, author of My Everything You can tell a lot about a person from the library books they borrowLonely library assistant June is much more comfortable with books than people. When her mum - the beloved local librarian - passed away, June stepped into her shoes. But shy June has always felt that she could never live up to her mum's legacy.

Instead, she's retreated into herself, surviving on takeaways-for-one and her favourite stories. When the library is threatened with closure, June is distraught. Yet when a ragtag band of eccentric but dedicated locals establish the Friends of Chalcot Library campaign, June is forbidden from joining their cause.

If June wants to save the place that means so much to her, she'll have to make some bold changes to her life: opening up her heart to friendship, opportunities and maybe even more . . .