0
produse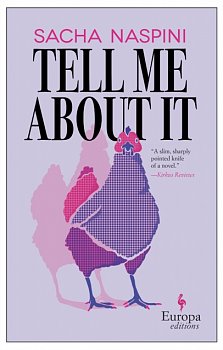 Tell Me About It (Paperback)
Dimensiuni:
13,4 x 21 x 1,9 cm
Disponibil cu livrare intre 08 Jul - 20 Jul
Adaugat in wishlist
A HAUNTINGLY BEAUTIFUL STORY OF UNDYING LOVE"A delightful story of the muddled, confusing time of love after loss."-BooklistNives has recently lost her husband of fifty years. She didn't cry when she found him dead in the pig pen, she didn't cry at the funeral, but now loneliness has set in. When she decides to bring her favourite chicken inside for company, she is surprised to discover that the chicken's company is a more than adequate replacement for her dead husband.

But one day, Giacomina goes stiff in front of the tv. Unable to rouse the paralysed chicken, Nives has no choice but to call the town veterinarian, Loriano Bottai, an old acquaintance of hers. What follows is a phone call that seems to last a lifetime, a phone call that becomes a novel.

Their conversation veers from the chicken to the past-to the life they once shared, the secrets they never had the courage to reveal, wounds that never healed. Tell Me About It reverberates with the kinds of stories we tell ourselves at night when we cannot sleep: stories of love lost, of abandonment, of silent and heart-breaking nostalgia, of joy, laughter, and despair. With delicate yet sharp prose and raw, astonishing honesty, Naspini bravely explores the core of our shared humanity.