0
produse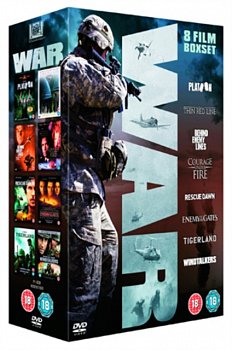 Modern War Collection 2006 DVD
Subtitrare:
Fara subtitrare in limba romana
Cod produs:
5039036042222
Disponibil cu livrare intre 21 Feb - 05 Mar
Adaugat in wishlist
Acest film nu are subtitrare in limba romana.
Collection of eight modern war films. 'Platoon' (1986) tells the story of a young innocent 19-year-old soldier, Chris Taylor (Charlie Sheen), who is thrown headfirst into the bloody Vietnam conflict. He is forced to fight not only the Viet Cong, but also his own fears and intense anger. As a result of not being able to make any progress against the enemy, the soldiers, led by the strict and unsympathetic Sergeant Barnes (Tom Berenger), are forced to turn their anger and guns on each other. Barnes also has a personal battle with fellow officer Sergeant Elias (Willem Dafoe), who is the more understanding and compassionate of the two officers and helps Sheen to cope with his personal problems. 'The Thin Red Line' (1998) is set in 1942 and was Terrence Malick's first film for 20 years. As US soldiers land on the island of Guadalcanal, hoping to capture it from the Japanese, the job of venturing into the jungle falls to the 'C for Charlie' company and the troops are faced by both the enemy and struggles within their own camp. The war takes a heavy toll upon the young soldiers, leading them on a path of disillusion and possibly death. 'Behind Enemy Lines' (2001) is inspired by the story of Scott O'Grady, the US fighter pilot who was shot down over Bosnia in 1995 and managed to find his way back to base without being captured. After photographing some Bosnian Serb troops hidden in a forest, Lieutenant Chris Burnett (Owen Wilson) and his co-pilot Stackhouse (Gabriel Macht) are shot down by an anti-aircraft missile. Stackhouse breaks his leg in the crash, and Burnett goes off to get help, but the Serbs soon locate Stackhouse and execute him. Burnett now finds himself alone in hostile country and sets out on the long and dangerous journey back to safety. Meanwhile, his commanding officer (Gene Hackman), against all army and NATO rules, sets out on a mission to locate and rescue Burnett. In 'Courage Under Fire' (1996), Lieutenant Colonel Nat Serling (Denzel Washington), suffering from guilt after destroying one of his own tanks in a 'friendly fire' incident during the Gulf War, is assigned to investigate the death of Captain Karen Walden (Meg Ryan). Walden died in action, but accounts of her actions vary and so Serling has to discover the truth before she can be posthumously awarded the Medal of Honour. At the same time he has to come to terms with his own traumatic experiences in the Gulf. 'Rescue Dawn' (2006) tells the true story of downed Vietnam pilot Dieter Dengler. Based on the director's 1997 documentary 'Little Dieter Needs to Fly', the film follows Dengler (Christian Bale) as he fulfils his lifelong dream by making his way to the United States and joining the Air Force. Shot down over Vietnam and captured by the Vietcong, Dengler has to quickly adapt to the harsh brutality of his situation, biding his time until he can risk an escape attempt with his fellow POWs. 'Enemy at the Gates' (2001) is set in Stalingrad in 1942. Political Officer Danilov (Joseph Fiennes) sees young army recruit Vassili Zaitsev (Jude Law) in action and realises that he is just what the Russian people need to inspire them in their fight against the German army. Zaitsev is a natural with a rifle, and Danilov arranges for him to be transferred to a sniper unit, where his actions will be publicised, thus making him into a national hero. But Zaitsev soon begins to feel he cannot live up to Danilov's expectations, and to make matters worse, he and Danilov both fall for the same girl (Rachel Weisz). Meanwhile, the Germans find out about Zaitsev and bring in their own top sniper, Konig (Ed Harris), to engage the young Russian in a deadly battle of wits. Finally, 'Tigerland' (2002) is set in Louisiana in 1971. When new recruit Jim Paxton (Matthew Davis) arrives at Fort Polk for basic training he soon makes friends with the rebellious Roland Bozz (Colin Farrell), a soldier who is doing everything he can to get himself thrown out of the army. Bozz has plans to escape to Mexico, but Paxton refuses to go with him, arguing that if he doesn't go to Vietnam, then somebody else will have to go in his place. However, when Bozz makes an enemy of his vengeful and sadistic fellow recruit Wilson (Shea Whigham), the need to get out of the army becomes even more pressing. Finally, in 'Windtalkers' (2002), Nicolas Cage takes the starring role in this John Woo-directed war movie about US soldiers fighting in the Pacific during World War II. Ben Yahzee (Adam Beach) is a Navajo Indian who signs up for the US marines to work as a radio operator in a new military program which uses the Navajo language as the basis for coded transmissions. Sent into action, Yahzee is given battle-weary sergeant Joe Enders (Cage) as a bodyguard, but remains unaware that Enders has been ordered to kill him should he fall into enemy hands. When the two men find themselves caught up in the intense close-quarters combat of the battle of Saipan, they must struggle not only against the enemy, but also to earn each other's trust and respect.