0
produse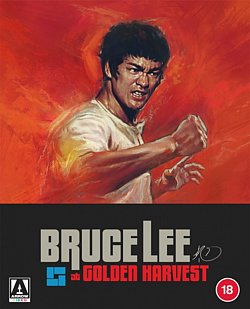 Bruce Lee at Golden Harvest 1984 Blu-ray / Box Set with Book (Limited Edition)
Subtitrare:
Fara subtitrare in limba romana
Cod produs:
5027035025780
Acest film nu are subtitrare in limba romana.
Collection of eight works featuring Bruce Lee and made during his time working with the Golden Harvest production company in Hong Kong. In 'The Big Boss' (1971), immigrant worker Cheng Chao-An (Lee) takes a job with his cousins in an ice factory and discovers all manner of suspicious activities. Cheng might have promised his mother not to fight again but when he begins to investigate a series of disappearances - including that of his own cousin - he can't help but display his formidable martial arts skills. Taking on one opponent after another, Cheng will not stop until he has fought his way to the truth and an inevitable confrontation with the man known only as the Big Boss. 'Fist of Fury' (1972) sees martial arts student Chen Zhen (Lee) lose his mentor in suspicious circumstances. Whilst he is mourning his old friend, members of a rival school arrive and taunt Chen and his friends, who seemingly ignore their teasing. Chen later humiliates his adversaries by beating every single one of them but this causes bloody repercussions and Chen begins to uncover the real reasons behind his master's death. Lee writes, directs and stars in 'The Way of the Dragon' (1973) in which Tang Lung (Lee) arrives in Rome to protect a family friend's restaurant from a powerful crime boss who wants to take it over. A violent altercation between Tang and the gangsters sees the boss first try to have Tang assassinated and then, when that fails, request reinforcements. Tang must now engage Colt (Chuck Norris), a skilled martial artist, in a fight to the death within the walls of the Colosseum... In 'Enter the Dragon' (1973), martial artist and instructor Lee (Lee) is asked by British Intelligence to assist in their investigation of drug smuggler Han (Shih Kien) by attending a martial arts tournament on Han's private island and using the opportunity to gather evidence against him. Han is dangerous and unstable, threatening the martial artists with imprisonment and death, and events on the island culminate in a final violent battle. Lee tragically died halfway through filming 'Game of Death' (1978). When martial arts superstar Billy Lo (Lee) refuses to join a crime syndicate, they put a contract out on his life. The assassination attempt fails but his death is broadcast to the world to throw the criminals off his trail. Unfortunately, they do not believe the lie and Lo is forced to face a series of adversaries to save the life of his girlfriend, Ann (Colleen Camp). 'Game of Death 2' (1981) features a performance from Lee pieced together using outtakes from his previous films. After the sudden death of his friend, martial arts fighting Billy Lo (Lee) is suspicious. When Billy is killed at the funeral, his brother Bobby steps in to investigate and finds himself at the Castle of Death where he stumbles upon a drug manufacturing centre. Finally, the documentaries 'Bruce Lee: The Man and the Legend' (1973), made only months after his death, and 'Bruce Lee: The Legend' (1986), which charts his rise from child stardom in Cantonese films to international success, also feature. Clips from his films, behind-the-scenes footage from the then-unfinished 'Game of Death' and interviews with his friends and associates are included.