0
produse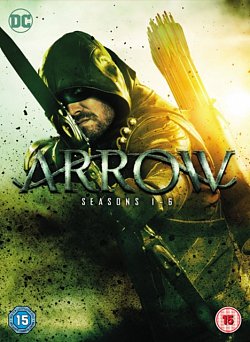 Arrow: Seasons 1-6 2018 DVD / Box Set
Subtitrare:
Fara subtitrare in limba romana
Cod produs:
5051892212922
Disponibil cu livrare intre 13 Jun - 25 Jun
Adaugat in wishlist
Acest film nu are subtitrare in limba romana.
All 138 episodes from the first six seasons of the US action drama based on the DC Comics hero Green Arrow. After being shipwrecked and stranded on an island for five years, millionaire playboy Oliver Queen (Stephen Amell) returns home to Starling City. It is clear that his experiences on the island have changed him and, disguised as a hooded figure known as Arrow, he uses the new skills he has developed to fight crime, including the corruption taking place within his deceased father's company. Season 1 episodes are: 'Pilot', 'Honour Thy Father', 'Lone Gunmen', 'An Innocent Man', 'Damaged', 'Legacies', 'Muse of Fire', 'Vendetta', 'Year's End', 'Burned', 'Trust But Verify', 'Vertigo', 'Betrayal', 'The Odyssey', 'Dodger', 'Dead to Rights', 'The Huntress Returns', 'Salvation', 'Unfinished Business', 'Home Invasion', 'The Undertaking', 'Darkness On the Edge of Town' and 'Sacrifice'. Season 2 episodes are: 'City of Heroes', 'Identity', 'Broken Dolls', 'Crucible', 'League of Assassins', 'Keep Your Enemies Closer', 'State Vs Queen', 'The Scientist', 'Three Ghosts', 'Blast Radius', 'Blind Spot', 'Tremors', 'Heir to the Demon', 'Time of Death', 'The Promise', 'Suicide Squad', 'Birds of Prey', 'Deathstroke', 'The Man Under the Hood', 'Seeing Red', 'City of Blood', 'Streets of Fire' and 'Unthinkable'. Season 3 episodes are: 'The Calm', 'Sara', 'Corto Maltese', 'The Magician', 'The Secret Origin of Felicity Smoak', 'Guilty', 'Draw Back Your Bow', 'The Brave and the Bold', 'The Climb', 'Left Behind', 'Midnight City', 'Uprising', 'Canaries', 'The Return', 'Nanda Parbat', 'The Offer', 'Suicidal Tendencies', 'Public Enemy', 'Broken Arrow', 'The Fallen', 'Al Sah-him', 'This Is Your Sword' and 'My Name Is Oliver Queen'. Season 4 episodes are: 'Green Arrow', 'The Candidate', 'Restoration', 'Beyond Redemption', 'Haunted', 'Lost Souls', 'Brotherhood', 'Legends of Yesterday', 'Dark Waters', 'Blood Debts', 'A.W.O.L.', 'Unchained', 'Sins of the Father', 'Code of Silence', 'Taken', 'Broken Hearts', 'Beacon of Hope', 'Eleven-Fifty-Nine', 'Canary Cry', 'Genesis', 'Monument Point', 'Lost in the Flood' and 'Schism'. Season 5 episodes are: 'Legacy', 'The Recruits', 'A Matter of Trust', 'Penance', 'Human Target', 'So It Begins', 'Vigilante', 'Invasion!', 'What We Leave Behind', 'Who Are You?', 'Second Chances', 'Bratva', 'Spectre of the Gun', 'The Sin-Eater', 'Fighting Fire With Fire', 'Checkmate', 'Kapiushon', 'Disbanded', 'Dangerous Liaisons', 'Underneath', 'Honor Thy Fathers', 'Missing' and 'Lian Yu'. Season 6 episodes are: 'Fallout', 'Tribute', 'Next of Kin', 'Reversal', 'Deathstroke Returns', 'Promises Kept', 'Thanksgiving', 'Crisis On Earth-X: Part 2', 'Irreconcilable Differences', 'Divided', 'We Fall', 'All for Nothing', 'The Devil's Greatest Trick', 'Collision Course', 'Doppelganger', 'The Thanatos Guild', 'Brothers in Arms', 'Fundamentals', 'The Dragon', 'Shifting Allegiances', 'Docket No. 11-19-41-73', 'The Ties That Bind' and 'Life Sentence'.